Logan's Hero Dirt
Scholarship Fund
The Board of Directors of Wheel Fun (FUN) are thrilled to announce the creation of the Logan's Hero Dirt Scholarship Fund. Named in honor of a 6th grader at Oak Creek School in Cornville who inspired its creation, this financial need and merit based scholarship will be available beginning in Spring 2025.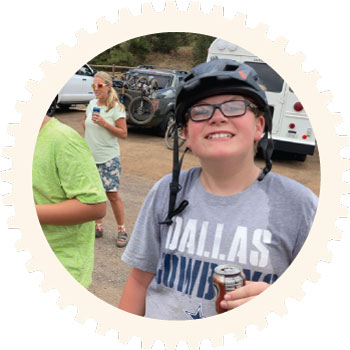 Logan after a FUN ride at Campbell Mesa in Flagstaff
Many Verde Valley youth lack the opportunity to enhance their lives by extending their education past high school. Logan's Hero Dirt Scholarship is open to any Verde Valley and Sedona qualified individual who will be attending a postsecondary institution in the upcoming school year. This includes two-year and four-year colleges, or trade and vocational schools. A qualified individual must have participated in one of FUN's mountain bike programs (after-school clubs, camps, earn-a-bikes, Riding4Focus) in elementary, middle or high school or rode with the Arizona Cycling Association. Previous Logan's Hero Dirt Scholarship Fund awardees in good standing are also eligible.
The Arizona Community Foundation (ACF) of Sedona will administer this scholarship through the production of an online scholarship application, availability announcements along with application receipt, organization, review and selection.
In addition to standard ACF scholarship application requirements, Logan's Hero Dirt Scholarship applicants will be required to submit an essay answering the following question with their application: What did Bike Club mean to you?
The Logan's Hero Dirt scholarship can be used for tuition, fees, books and on-campus room and board (on or off-campus) for the upcoming school year at an accredited university, community college or higher education institution.
FUN anticipates up to three $20,000 scholarships will be awarded annually beginning in 2025.
Two reasons. First, this permanently endowed scholarship is being incrementally funded between now and then. Second, spring 2025 is when the 6th graders who joined FUN's first clubs in the fall of 2018 will be high school seniors.